Paragon Records
2010.03.07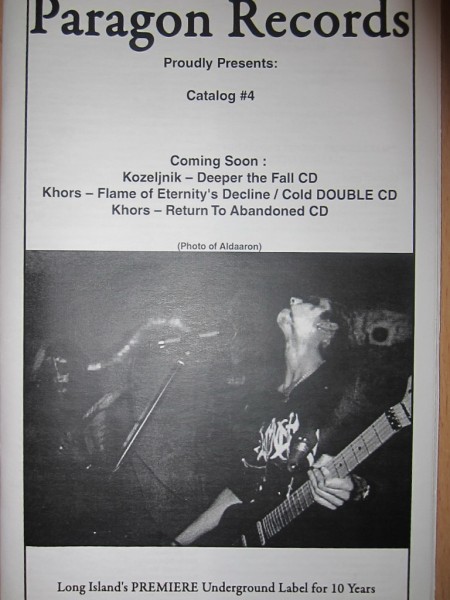 1.hail brother: how is the weather in the Ukraine today?? I hear Ukraine has one of the most beautiful landscapes you will ever see. Why woulkd you say that is?
Hi there! The winter stays too long in Ukraine this year. In the middle of March here all is covered with snow still, cold weather keeps and Ukrainians looking forward for Spring.
I think that each country has a number of beautiful places that bears a cultural value of which its inhabitants are proud of. Therefore we are proud so much that Ukraine has a lot of places having been sung by poets and writers of different times. It's important for us and we're proud to be Ukrainians!
2. On your last cd "Mysticism" the band seem to take a more original approach. Would you agree and was this a natural progression?
Is this a progression or recourse – it's not to us to discuss it. "Mysticism" is the album that we created with other mood and other influences than it was rather on two previous albums. A little bit another side of our souls – romantic and mysterious yet penetrated by a mystical cold.
3. You use to be a member of Astrofaes. Why did you leave? Do you still have correspondence with the band?
There are two of ex-ASTROFAES members now in KHORS namely Khorus (bass) and Khaoth (drums). The last one has left ASTROFAES in far 2000 when has lost interest to the band's music but Khorus, one of founders of ASTROFAES, has left that band in cause of disputed situation with Thurios (other founder of ASTROFAES) in 2004 year then has gathered KHORS. We don't have contacts with ASTROFAES, to be exact, with Thurios, the unique band member for now.
4. Khors often gets linked to having political agenda with their music. This is FALSE. Would you please clarify to your readers what the band does stand for.
I can't understand where one can find political implied sense in our music or in lyrics. We feel sympathize to the Ukrainian patriotism but it has no attitude to a politics too.
5. What was the most memorable show you have played up to this point, and what was the most memorable show you have seen?
It's hard to note the only memorable show which was remembered most of all. Metal Head's Mission fest in Crimea, UA was cool in 2008 when we played open air almost directly on seacoast at sunset. It was stylishly. Thematic shows with our friends are also well remembered usually.
6. What festival would you really like to play more then any other?
We'd like to play on any big festival on the basic stage but this dream perhaps from the category unrealizable but that's not so important in general. To tell you the truth we feel the festivals where people are waiting us are much more interesting and pleasant for us. Let it be a show in small club but for our public. I think it's necessary to play at big fests when your occurrence there is proved by a number of factors.
7. What are some of the influences the band puts into Khors?
History, Native Land, national creativity, traditions…
8. What countries you would like to visit and why?
It's always interesting for us to visit any country but European countries seem most interesting for us as the countries of brotherly culture
9. Is the scene strong in the Ukraine and are there plenty of places for underground bands to play?
More than. Practically in each city there are clubs the bands playing metal music can play a show in which. But another matter that the so-called metal culture is not an even anymore and sometimes there's no simply to interest the listener.
10. We have come to end for this interview brother. The last words are yous.
Lucks and power!