Widmo zine
2010.12.01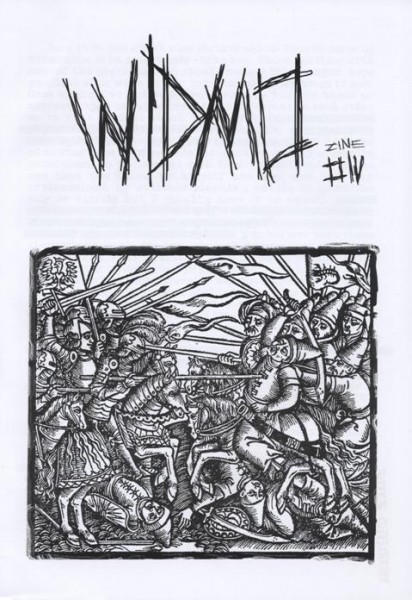 1. SLAVA, BIOGRAPHY STARTS WITH ASTROFAES SO... WHY GUYS FROM THAT GROUP FORMED KHORS? DID YOU PART PEACEFULLY?

Yes, we played in ASTROFAES together with Khaoth. Khaoth played there since 1997 till 2000 and I stayed there from 1995 till 2004. After my leaving of ASTROFAES I decided to gather my band and the first who became the band member with me was Khaoth. Together with him we created our first album and the rest story can be found in our biography.
My leaving of ASTROFAES passed peacefully enough, without scandals btw., but it would be wrong to say that we remained friends with Thurios.

2. DO YOU KNOW WHATS GOING ON IN ASTROFAES? ALEX FROM SUPERNAL HAVE POSTED HIS "RESPONSE TO OMAN BLAGIH" ON LINE... IS IT TRUE THEY HAD/HAVE THAT KIND OF FINANCIAL PROBLEMS?

Can't say I'm interested in deals of ASTROFAES but many of news reach me well of course. I've heard about that conflict but I don't want to comment it accordingly cause it would be not so good from my side. But having known the details I can definitely say I'm on the band's side besides the problems there not with ASTROFAES only. Some known bands left Supernal Music too.

3. GOD OF THE SUN WAS CHOSEN FOR BANDS NAME. WHY? AMONG THE METAL SCENE IT IS COMMON TO FOLLOW MOON/DARK/NIGHT ATTITUDE... ARE YOU TRYING TO EXPRESS SOMETHING BY THAT?

That's not interested for me the canons in a choice of bandnames on metalscene of today. I was guided with my own perception which name I'd like to give to my band in view of Heathen direction. God of the Sun cause the Sun itself is one of the most influential planets concerning the Earth. Its value is hard to uderestimate as for our ancestor as for us in particular too. Our forefathers worshiped to Khors and it had sacral value for them.

4. I REMEMBER AN ARTICLE (WRITTEN NEARLY 15. YEARS AGO) WHERE THE EDITOR EXPLAINS THAT THE NAMES OF THE GODS SHOULD BE PRONOUNCED WITH RESPECT AND USING THEM FOR AN ALBUM TITLE IS NOT A GOOD IDEA. I WONDER YOUR POINT OF VIEW ON THAT SUBJECTS

I'm sure it's good idea and we don't profane the name of Khors, the God at all using his name as our bandname. We bring our music under so called banner of bandname and if people wonder what Khors is then it will force'em to appeal to their great history. And it has the only positive effect in our time.

5. FORMATIONS LIKE NOKTURNAL MORTUM OR DUB BUK ARE ASSOCIATED WITH NATIONALISM, WHEREAS KHORS STAYS APART FROM THAT SUBJECTS. DO YOU MIND RIGHT WING IDEOLOGIES IN PAGAN METAL?

The deal is mass-media's accustomed to bring a Heathen band to a certain ideological position. It goes for us too as we collided with the situation we was defined as right winged band for many times. I don't want to respond it cause there's no sense. The same about NOKTURNAL MORTUM ad DUB BUK. As I told before all the lyrics of ours are Heathen and patriotic influenced and if some want to see political sense in it then it his/her right.

6. DID YOU COMPLAIN ON ORIANA? WHAT WAS THE COOPERATION LIKE? FINALLY DO YOU FIND PARAGON BETTER?

Oriana done his job well but time had come for us to change a label to the one has wider distribution and abilities. Paragon meets our requirements full at the moment. It's small label but he cares about us as necessary to do that.

7. LONG TIME AGO FOR SOME UNDERGROUND BANDS IT WAS A POINT OF HONOUR NOT TO COOPERATE WITH LABELS LIKE OSMOSE. AT LEAST THEY CLAIMED TO BE SO. DON'T REALLY KNOW THE TRUTH BUT WOULD YOU MIND SIGNING TO WORLD WIDE COMPANY DOING THEIR LIVING OUT OF YOUR MUSIC? WERE YOU SURPRISED AT OSMOSE REISSUES OF HATEFOREST?

I see no problem if an underground band release its CD on major labels. As about HATEFOREST I know Roman Saenko for a long time still up to HATEFOREST was gathered and I see no changes in him for all these years. He still writes his music fairly and the fact he get money for that is not some kind of shame. Besides it's not a business but the opportunity for him to express a part of his soul through the music.

8. ARE YOU INTO UNDERGROUND ZINES? SLAVIC EUROPE SEEMS TO KEEP THIS (GETTING OLD) TRADITION STILL ALIVE. COULD YOU RECOMMEND US SOMETHING OUT FROM UKRAINE?

We cooperate with many of magazines worldwide more or less underground as well as with some major ones. As for Ukrainian magazines so I can note Terroraiser and Atmosfear.

9. XEROED OR PRINTED? RAW OR WELL DONE? CONTENTS IS THE MOST IMPORTANT BUT WHAT IS YOUR FAVORITE LAYOUT?

The main for me in zine is availability of interviews interested for me and the quality of issue is not so important. Sure if I read it with no eyes irritation otherwise the idea of DIY is not for me.

10. DID YOU LIKE TECHNO/ELECTRONIC PARTS IN DUB BUK'S CREATION? ARE YOU OPEN MINDED (I HATE THAT EXPRESSION) MUSICIANS?

I can't say I like it but it doesn't irritate me also. I find such the experiments normal so let the fans estimate that. As for us so we're opened enough for some experiments in music but techno or/and electronics are definitely not our way.

11. AT SOME POINT I COMPLETELY LOST MY INTEREST IN MAYHEM. NOW I SEE THAT THERE IS SOMETHING WORTH OF ATTENTION IN THEIR UNCONVENTIONAL STYLE. DO YOU LIKE THEIR NEW FACE AND EXPERIMENTS IN GENERAL?

I don't like MAYHEM after "Wolf's Liar Abyss" album. I was on their show this Autumn in Kiev, UA which was on Global East Festival and their performance was kinda awful and shameful.

12. IS KHORS AFTERMATH OF YOUR FASCINATIONS OR DO YOU TRY TO FORM SOMETHING NEW. WOULD IT BE POSSIBLE TO CREATE ANYTHING NEW IN METAL?

You know we do what we like first of all and if we sound similar with some then it's not for us to judge it. It's hard to be an innovator in metal music of today and even impossible in a greater degree. The bands became popular mostly because of their great and interesting music.

13. YOUR MUSIC IS REACHLY VARIED IN COMPARISON TO MANY OTHERS. WHERE DO YOU TAKE AN INSPIRATION FROM? DO YOU LIKE ART ROCK?

We like a lot of bands from different music styles including art rock, post rock, hard rock, doom and other styles in metal or in rock music. KING CRIMSON, KATATONIA, GOD IS AN ASTRONAUT, SOLSTAFIR, BLACK SABBATH, AMORPHIS, ANATHEMA, BURZUM, PINK FLOYD just a small list of bands which we like to listen to. Sure it impresses us and our music.

14. DO YOU LIKE INSTRUMENTS LIKE HAMMOND ORGANS. IS THERE SOMETHING IN MUSIC WHERE THE LINE WOULD BE CROSSED FOR KHORS?

We used Hammond on our new alum in "The Fog" song and we're satisfied of what became from that. Hammond passed a bit amazing both atmosphere and mood of lyrics. Hope the fans will estimate it too.

15. YOUR BAND'S TUNES SEEM TO BE POLISHED, BUT DO YOU LIKE RAW STUFF OUT FROM REHEARSE PLACES? ARE ANY OF YOU COLLECTING REH'S?

Yes, we like qualitative recordings and that's our approach to KHORS' music. Right, it should sound polished. As for other music so I can say that I like old Norwegian black metal for it is great music and there's not so important if it's recorded not so good for example. Rehearsal sound or polished one it affects on atmosphere mostly and I like old KAMPFAR for example rather than new one don't spite the new one's recorded better. There are many bands now trying to have bad records only for dirt itself. It sounds not interesting at all. There are no collectors of reh. demos among us but I have some rare bootlegs of old MAYHEM, ARCTURUS and EMPEROR.

16. I ASSIOCIATE UKRAINIAN SCENE WITH THE TOWN WHERE YOU ARE LIVING. HOW IS IT LIKE INSIDE? ARE YOU GETTING ALONG WITH EACH OTHER?

Yes, the concept "Ukrainian black metal scene" is identically of concept "Kharkov based black metal scene" and we feel proud of we're part of all it. Such bands as NOKTURNAL MORTUM, DRUDKH, HATEFOREST, DUB BUK, ASTROFAES are known worldwide and it's undoubtedly pleasant to realize it. We ain't so closely to communicate as it was since the end of 90s till the mid of 2000s due to many reasons. We all became older, have families, a lot of common works and a little bit other interests. Still we play together on joint festivals, have a lot of talks, discussing various problems.

17. PROBABLY MANY WESTERN ISSUES ARE NEARLY UNAVALIBLE AND VERY EXPENSIVE IN UKRAINE. HOW HARD IS IT TO COLLECT EG VINYLS?

Sure European prices are too high for the Ukrainians and standards of living here is low in general. But it hardly keeps true collectors cause it's not a problem to order production through the web. So the problem's in money only. I have a little LP collection myself.

18. SOME INSPIRATIONS WERE FOUND IN NATURE. ANYTHING COMMON WITH ECOLOGISTS?

We consider the Nature as the power which has a most strong effect on our life. The power which can't be fully realized and uderstanded over. Some majestic and outstanding!
Environmental problems are clear and close to us but we ain't in an organization working in that direction but just feel sympathize to their work.

19. I READ THAT IN FORMER SOVIET STATES BECAUSE OF NEGATIVE BIRTHRATE AND AUSTERITY LOTS OF VILLAGES VANISHED FROM THE FACE OF THE EARTH. HAVE YOU NOTICED ANY DISURBANIZATION AROUND?

We live in big city and we have a lot of other problems such like stopped or bad working manufacture, unemployment, criminality, alcoholism, narcotism but the main problem of our country is deep corruption of government. As for birth rate it's sure felt down a lot in comparison with 90s but it's not about us. I have two children and Khaoth have a child))) Kharkov scene have big posterity in the whole and I hope our generation to come will make this politically sick country much better.

20. DO THE PEOPLE MISS SOVIET UNION? PROBABLY MOST OF THEM CONSIDER IT WITH STABILITY RATHER THAN 30s...

Sure some people connect their best memories with the stable 70s and those are old ones actually but one should not forget stage-by-stage destruction of Slavoniñ people by communist machine after revolution in 1907, during 30s, during II WW and after that. All the system was pointed at transubstantiation of people to a grey mass of pelters "commited to party". For all the years of communist governing the system achieved much and the countries of ex-USSR will spat by blood still long. When 40s too many Ukrainian patriots was killed here and still they recognized as faschists and nazi by some politics.

21. BLACK SEA FLEET IS VERY EMOTIVE SUBJECT IN UKRAINE. I'M CURIOUS ABOUT YOUR OPINION IF ITS GOOD BUSINESS OR HIGH TREASON...

There's complex enough situation in a whole with all Crimean peninsula. Initially if to take 200 years back then it was territory of Russian Empire then forwarded to Ukrainian Socialistic Republic (constituent to the USSR in that period) in 60s years of the past century. After splitting of USSR this territory remain composed of Ukraine with preliminary agreements that Russian Military Fleet stay in Sebastopol and it contradicts to the constitution of our country by the way. This agreement's extending from time to time by some Ukrainian statesmen and sure it displeases complaints of some Ukrainian residents. But from the other side there are also negative in some layers in Russia regarding transfer of initially Russian territories to Ukraine. It's hard for me to state fair about this issue cause the situation is out of ordinary so I better abstain from my comments accordingly.

22. HELG IS OUT. NOBODY IS IRREPLACEABLE BUT IF I'M RIGHT HE HAS WRITTEN QUITE A LOT OF MATERIAL. WILL KHORS BE THE SAME ON FURTHER RECORDINGS?

Helg was forced to leave the band due he's being busy with his family. We remained friends, we still meet one each other and it's possible he will work in studio with us upon our new albums. Sure his contribution in our music is huge but we always create it in strong fairway of the album's line and this connection the author of music has important but not the determinative part. And the further arrangements have not less important value thus the version can be heard on the album a bit differs from the preliminary one. The next album will be different again and it doesn't because of Helg absence but we just write different albums and I hope listeners follow it.
23. YOUR BAND GOT A BIT OF SUPPORT FROM SATURIOUS. ARE YOU GOING TO COOPERATE ON THE NEXT ALBUMS? IS FINST STILL ALIVE?

Saturious is our old friend. He helped us a lot with recording of keyboards on all the albums of ours and I hope such the way will remain for the future. We pleased with our collaboration with Saturious and his contribution in luck of our music is huge.
FINIST is OK! Saturious never leaves his brainchild. He has his own home studio where he actually creates something in.

24. WHY HAVE YOU NOT PREFORMED IN OLSZTYN LAST YEAR?

For many years the strange situation lies upon our shows abroad. We played several times in Moscow, Kiev, Kishinev, Minsk as well as in other cities of Ukraine, Russia, Belarus and Moldova playing approx. 12-15 shows in a year. But if an offer appears from abroad then some various problems follow. Or promoter disappears or financial side became very complex and unrealizable for him, etc. There was just a comedy with Olsztyn occurrence. First the festival were removing in date for three times but when the deal came to the signing official invitations for us on the promoters side then Poland consulate refused it so then there was no sense for us to sign VISAs in embassy. The reason of refuse was fun and stupid at the same time – bird fly which raged in Ukraine that time.

25. THX!

Thanks you too! Take care of you and your families!